Yandex has added ad blocking feature to its browser in Russia
Yandex , which adds an ad blocking feature to its browser in Russia, which prevents many ads from being trafficked , aims to improve the browsing experience of users. In particular, the company aimed at unfit advertisements used the regulations contained in the local guidelines of the Internet Advertising Bureau in making this improvement.
Yandex, which will not filter ads that comply with the IAB Russia guidelines, also offers a number of tools to the advertiser. With the Webmaster service, publishers and advertisers can check that their ads comply with Yandex standards. 
Users of the Yandex browser will see that Adblocker is active on both desktop and mobile with the updated version. Users can disable this feature from their settings. However, for those who continue to use the feature, the annoying and annoying ads will be prevented from loading when the page is opened.
This is not the first time Yandex has been an obstructive use against advertisements. The company previously included third-party ad blocker plug-ins on its mobile browser, and the mobile user also placed a complaint button to complain about the ads. However, with this last push, Yandex is putting advertisers in a very difficult situation.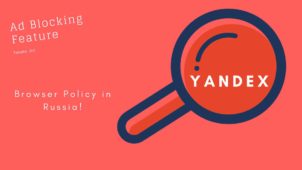 In addition to ads that do not comply with IAB Russia's guidelines, the company blocks full-screen banner ads, pop-ups with countdown tool, and auto-starting video ads. Relevant ads with an unfavorable and organic structure will continue to be shown to the user.
This move may actually be a step toward acting before Google, which will continue to market the ad blocker Chrome app towards the end of this month . In the meantime, let's recall that Opera, as well as these two popular browsers, also offer a responsive ad blocking service.
According to PageFair 's  2017 Adblock Report   , ad blockers continue to be used more and more on the desktop in Europe and the US, while there is a serious mobile-weight explosion in Asia. Northern European countries such as Denmark, Sweden, and Finland are remarkable in their use of ad blocking.
In addition to making use of this growing demand, Yandex, like Opera and Google, warns advertisers to produce better quality ads. Admiral's ad blocking analysis tool 2016 reports that publishers lose $ 3.45 billion each month  .