How to Migrate From Blogger to WordPress!
WordPress is currently very popular among bloggers, many bloggers based blogspot moved to wordpress because wordpress self-hosted more freely setting.
In addition, the themes are diverse, and the average SEO Friendly. In addition to themes, there are plugins that can help us increase SEO, you know. In contrast to blogspot, in blogspot we need the manual setting meta tags. Anyway, WordPress more recommended for you who have a big budget and want to be completely automated.
However, for migration from blogger to wordpress it is quite easy. In this article I want to share a tutorial on How the hell, how to migrate the entire content of blogger to wordpress.
Preparation :
For important preparation you need to have a domain name and also hosting that has been installed CMS wordpress, if you do not understand you can read the article on How to Install WordPress in cPanel Hosting.
Migrate by using Blogger Imported Extended plugins :
First step is to Login to wp-admin and install Blogger Imported Extended plugins.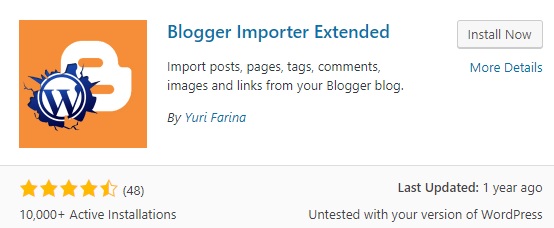 Once installed, activated directly and click Start Import. Then click on OK, let's go!
After that click Let's Go, then will be directed to login to Blogger, and click Allow.
Select the blog to import, click Continue.
Wait for the process to finish. Then try to access again. In addition to Blogger Importer Extended, can also use plugins import blog wordpress. 
Migration by using WordPress Blogger Import plugins 
Different ways with the first choice, because you need to export the xml file in blogger first to download. If you have downloaded xml file of blogspot, you login to wp-admin wordpress then to Tools> Import. Then click Install Now if not already installed, if it is installed click Run Importer.
Upload file xml  then click Upload file and Import.
After that the Import Author just adjust it, if you want to use new user write new user, or can use existing user (user which have been registered) by click Select then select User already registered.
Then click Submit, then wait for it to finish.
Now hopefully you get all the steps of this great tutorial in your mind. check back for more WordPress Tutorials. Till then Have fun!