Facebook Instant Articles WordPress Setup and Settings
Facebook Instant Articles is a system created for you to serve your articles in the fastest way possible. Shortly with Instant Articles, we'll show you how to set up WordPress, plus or minus directions, and what you need to do to make money from your blog site.
We have to give you a little information before we go to clarification. You should know that Facebook Instant Articles is different from the Google AMP service.
With this plugin, we will be able to automatically generate streams with the criteria requested by Facebook. The plugin also allows you to use some of the functions on the editor page.
We will include the fields and explanations we will use in our writing.
Facebook Instant Articles is designed to provide faster page load times for mobile users. This service provided by Facebook allows you to serve your content in specific formats.
What does this service provide us? It takes 10 times faster page load time than a regular web page. With the opening speed provided, you can provide a better user experience.
Many social media sites use this service in their content. If you've noticed on the Facebook app, you'll see a lightning bolt on some shares.
As with every service, there are some pluses and minuses as a result of using Facebook fast article services on your site . We want to share our own experiences with you.
Facebook Quick Articles Plus Directions
Facebook keeps your page ahead of schedule
You will have the chance to make facebook instant articles via Facebook Audience Network system
Quick-opening content gives you a better experience
You can grow traffic to your site through social media
Facebook Quick Articles Minus Aspects
You can show ads at a rate determined by Facebook
Most custom areas, add-ons and contact forms you use in your site may be incompatible
Facebook snapshot templates have limited customizations
The plus and minus directions we have received may vary depending on the content of your site. We assessed the plus and minus aspects of the experiences we have gained over a personal blog page.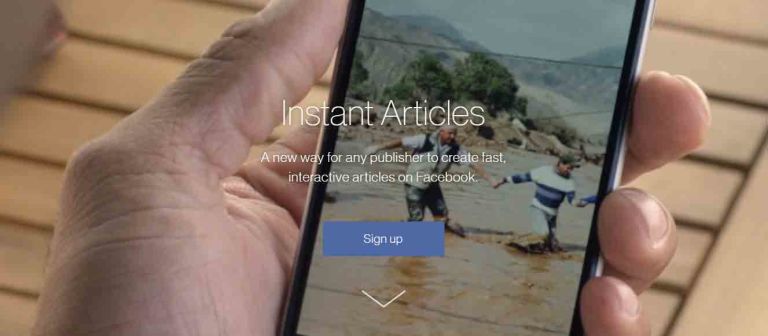 In order to use Facebook quick articles, you need to fulfill some basic requirements. Basic requirements for account creation;
Blog is a Facebook page of your site.
Having ten and over content.
Instant Articles plugin for WordPress.
We will continue to include the installation and settings of the WordPress Instant Articles plugin.
The account can start to create account by clicking the Sing up button on the incoming page.
You should click on the page you want to link to and then access the quick article tools button after you accept the service contract.
Once you click, you can now access the publishing tools for Quick Books on your screen  . Follow the next steps to create your Quick Books librarian. By pressing the Continue button, you will have access to your management domain.
Let's take a look at the configuration settings that need to be done with the sequence.
The first step you need to take is to verify the address of your site. For this you need to click on the link in the link section.
In order to set up and manage your Quick Articles, you will be forwarded to the page where some tools are presented.
Make sure that the verification code given to you is included in the add-on we have provided.
In the RSS feed URL field, enter the RSS address that applies to your WordPress site, and then click the save button to complete the action.
Do this by checking your http://sitename.com/feed/ "https://sitename.com/feed" on a new tab.
If you are receiving html content mistakes, make sure that we have "https://sitename.com/feed/instant-articles" in the RSS Feed URL.
By following the arrow, you can make some changes to your site's accelerated page. You can also upload site logos for Facebook quick articles via this page.
One thing you need to be aware of when adding a logo is that the image you create should be in png file format and at least 690px e 132px. If you do not upload the logo, you will be warned by Facebook.
After you press the Start button you will automatically create your quick articles app under your Facebook App account.
If you have completed all the settings completely, you will need to submit your site for the evaluation process.
Overall, the evaluation process is complete within 24 hours. Keep in mind that your new posts will be automatically evaluated through the plug-in we'll be giving.
If you are providing a large portion of your site traffic via Facebook, we strongly  recommend that you use the Audience Network system. We'll walk you through some step-by-step ad setup and account settings.
We   start by going to https://developers.facebook.com/apps/ and choosing the application we created earlier. Facebook will automatically be created as "Your page name – Instant Articles".
Once you have chosen your Facebook application, your confusion configuration screen will come up. Copy the Placement ID value by linking to Audience Network> Placements.
Instant Articles Add the code we got back to the settings page of the WordPress plugin. Save the changes by adding the code to the Audience Network Placement ID field under the Ads section.
Finally, you should come to App Review and open your posts explicitly.
If you've completed all the settings completely, you can seamlessly use Facebook quick articles in the mobile version of your site.
We want to indicate that you must have a dollar account before you can take steps to get paid. Facebook is making payment transactions in dollars. We would like to let you know that Shuan does not pay for TL accounts.
To create your Facebook payment account, go to the Audience Network> Payout tab and click the Create / Select Payout button.
Then click on the Create new account button to fill in the required fields on the opposite window. We need to organize the information on our example according to your own.
When completing your information, make sure we do not use Turkish characters.
Continue to the Tax Form and Admins fields without submitting them to your Payment Info step.
Once you have entered the required information, your bank account will be transferred to the account you have paid for.
Facebook Instant Articles, WordPress site owners are interested in earning revenue and serving their text quickly. We also think that click-through revenues are in dollars and should be tried in terms of publishers with low Google Adsense revenue.
Do not hesitate to comment on Facebook Quick Articles about your mindset or your questions.