Cloudinary WordPress Installation and Configuration
Cloudinary provides CDN service for your pictures, video and video files that you use in your web site. If you frequently include visual material in your site, you can use the free version to reduce the page opening and load time.
If you move your existing WordPress media library seamlessly, you can quickly move it using the Cloudinary plug-in.
The free plan that they offer for small and medium-sized websites brings with it extremely sufficient features. We will soon see what you will have by creating a free membership.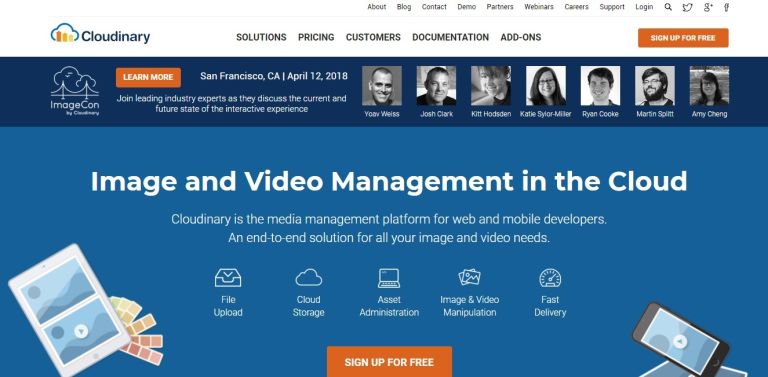 The cloud storage service Cloudinary serves you with a sophisticated management panel that contains many features that can be of interest to you. You can quickly and easily perform operations through the management panel without having to spend extra time to make some small adjustments.
Features that you can use if you open your account for free;
JPG, PNG, GIF, PSD, WebP, JPEG-XR, SVG and other popular image formats as well as PDF and office files.

Thanks to API support, it supports installation and editing on different platforms.

There are no obstacles to uploading images and images without file size limit.

The intelligent cloud infrastructure allows you to use three different CDN services at the same time. Akamai guarantees the best performance thanks to simultaneous service on Fastly and CloudFront.

Optimization works automatically with minimum loss to your images after uploading.

10 GB of storage space, 20 GB of bandwidth per month, and a total of 300,000 images.
It works very well with WordPress plugin which is prepared thanks to Cloudinary API support. The add-on that distributes your media library seamlessly is distributed free of charge.
The add-in automatically implements the automatic image optimization while automatically synchronizing the images you use within your texts and pages.
After you create your free account, you need to install the WordPress plugin.
After you install and enable the plugin, you will need a custom defined " CLOUDINARY_URL "  path so that you can use the plugin actively . To do this,  follow the link https://cloudinary.com/console and enter the value " Environment variable: " in the plugin.
Now you need to paste the code you have placed in the CLOUDINARY_URL section of the welcome screen by clicking on the Cloudinary tab in your WordPress admin area and then press the update settings button.
After you press the Update Settings button, the plugin will automatically complete the connection between your site and your account.
To transfer your media library, go to Media > Library tab. In the Screen preferences section, set the item to be displayed per page to 100. This will allow you to move your library faster.
After you select the "Upload to Cloudinary" option in the pop-up menu, you will be prompted to select the box next to "File" and then click "Apply".
Once you've applied, you should know that the transfer will vary depending on the speed of your server. The library items that are transferred will automatically be updated in your texts and pages. You do not have to edit again.
Note: If you are actively using one of the cache add-ons, you must do a cache cleanup after the transfer.
After the transfer process, you can edit the uploaded details in detail at https://cloudinary.com/console/media_library.
A service that will help you reduce your server load and save on monthly bandwidth. We recommend you to use it in terms of its features for free usage.
In order to test the more detailed acquisition reports, we are actively using Cloudinary service in our Tuthowto site. If you are using this service, do not hesitate to share your experiences with us.
Do not hesitate to write us all your questions in your mind.